Back to: Free Course: Steps To Recovery After a Breakup or Divorce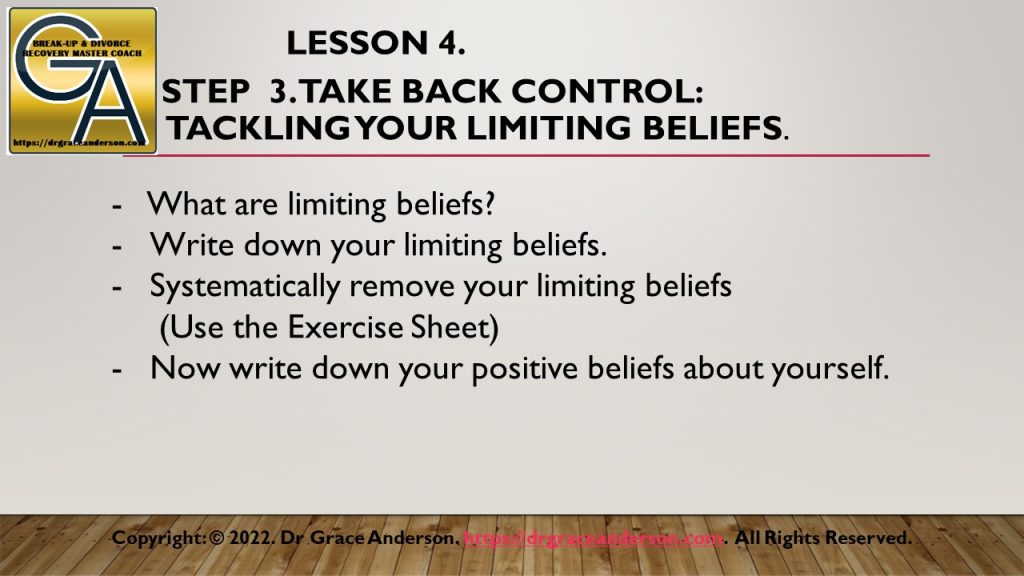 COMPLETE THIS LIMITING BELIEFS EXERCISE.
List Out Your Limiting Beliefs
(Those beliefs or thoughts that make you feel inadequate or unable to do something useful or positive to improve your life. Add as many as you like.)
1.
2.
3.
4.
5.
6.
7.
Now List out your Past or Present Successes and use them to Cancel out Your current Limiting Beliefs.
EG: I was quite heavy after I had my first baby, but when I decided to lose weight, I succeeded and lost 2 lbs every month until I got back to my normal weight. I CAN do that again!
If you can't seem to find something amazing that you did in the past to cancel your current limiting belief, find examples of famous people, or your family members who have overcome the particular limiting belief you currently have, and either find out what they did and emulate them or look on the internet for news about people who have succeeded in life despite many difficulties – like Oprah Winfrey, etc.
REMEMBER – HAVING A BREAKUP IS NOT THE WORST THING THAT CAN HAPPEN TO ANYONE. YOU CAN RECOVER FROM YOUR DIVORCE OR BREAKUP IF YOU DETERMINE TO MOVE ON WITH YOUR LIFE.
OFFER:
If you need someone to talk to, Book a Free Discovery Session with me and I'll help you as much as I can.